Three members of the Royal Electrical and Mechanical Engineers [REME] respond to their professional registration achievements.
Paige Welsh (pictured above)
Why did you decide to become professionally registered at IEng level?
I joined the REME with a Masters in bioscience and have since conducted land and aviation engineering courses. As a non-engineering graduate, it was important for me to be recognised as a professional engineer to gain the respect of my technicians and enable career progression. I also wanted to become professionally registered to connect with like-minded engineers across different job fields.
Do you think your success can inspire others to take a similar path?
I have supported my peers who are undergoing the same route to registration and I am keen to support the SOE by being an IEng Assessor.
Do you feel that the Technical Report Option (TRO) gives more engineers the opportunity to become professionally registered?
The TRO is a great opportunity for engineers within REME, who have the skill set but not the qualifications to become professionally registered. It enables a more diverse pool of engineers to become professionally registered.
---
David Tweed (pictured right (left in image))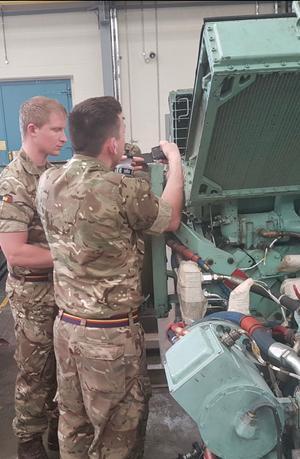 How does the Corps of REME support you in your career development? Does it encourage Engineering Council registration?
The REME supports career development throughout. From the moment you join the Corps it is always looking at how it can best support your individual needs for personal development. Throughout the early stages of my career REME gave me all the required opportunities to develop, be that on major exercises, career courses, or through the Corps Conference, where we look into the REME as a whole within the engineering profession. Engineering Council registration is strongly encouraged in order to gain the professional credibility required to make crucial engineering decisions, both in camp and on the battlefield.
How well does the process of becoming professionally registered fit in with a busy REME schedule?
Meeting the UK-SPEC criteria is easy with all the experience gained from being a REME Officer. However filling out the paperwork and application forms is often done in your spare time.
I was deployed overseas when I submitted my paperwork before Christmas and spent my evenings on a laptop typing up my experience! Luckily, I was back in the UK when I conducted my interview remotely and had the afternoon off to prepare.
---
Robert Haggart (pictured right)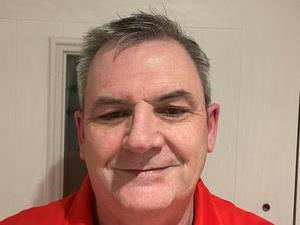 Does the registration set a good example for others to follow?
As a member of the MOD's engineering flock, a chartered engineer is seen as a role model and someone who has reached a very high standard professionally: a subject-matter expert in their field. It also provides a milestone for other less experienced engineers to aim for. It is something you strive towards and has to be earned both in qualification and experience, rather than a job interview. If you look across the MOD, the best performing projects are awash with chartered engineers. That speaks for itself in my opinion.
How does the MOD support you in your career development? Does it encourage Engineering Council registration?
The MOD does encourage professional development and registration by paying for your annual subscriptions and allowing time off/providing for courses etc. On this occasion, however, I paid myself, because I saw it as a personal goal to achieve what I believe to be the pinnacle of engineering excellence.
Why did you decide to become professionally registered at CEng level?
I had been considering professional registration for some time (since completing my MSc in 2018). I had looked at other organisations but SOE seemed to be where my background in motor vehicles most aligned. The prevalence of software and electronics (hobbies and favourites of mine) as well as the moves to alternate fuels and electrification more than piqued my interest.