Environmental engineers can show their commitment to high standards with REnvP licence.
In May, bp Production Team Lead Steve Rees became the first engineer from the Society to achieve the new licence, awarded by the Society for the Environment (SocEnv).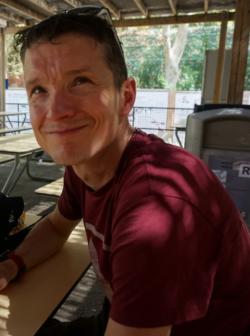 The licence recognises that an individual is working in a manner that enhances or protects the environment, and is consistent in planning, developing and implementing good environmental practices.
Steve was awarded the licence for his input to design, commissioning and start-up of flare gas recovery systems, and his contribution to a study into reducing power generation spinning reserve and improving operating efficiency by reducing wasted energy. Leading multidiscipline teams to operate and maintain oil and gas facilities within tight environmental constraints also contributed to his REnvP licence award.
Steve's REnvP achievement aligns well to bp's new direction of travel. In 2020, bp announced its ambition to become a netzero company by 2050 and help the world get to net zero. In the same year, it unveiled a new strategy that will see it transition from an international oil company to an integrated energy company.
The strategy is built around three areas of focus: building scale in renewables and bioenergy; putting customers at the heart of what bp does; and maintaining a resilient and focused hydrocarbon business.
The shift resonated with Steve, who has endeavoured throughout his career to do things in a sustainable way. Commenting, Steve said: "The culture at bp has changed and the mindset has shifted significantly in the past couple of years.
"There is a recognition that companies like bp need to evolve as the world's energy needs evolve. It's going to be challenging, but I strongly believe bp's strategy is the right one."
Transitioning to more sustainable energy solutions is at the heart of bp's net-zero ambition, and REnvP registrants like Steve will play a vital role in pushing that sustainability drive.
Steve looks forward to playing his part, adding: "In the next few years, hydrogen production and alternative energy sources such as offshore wind are going to play a significant role in the drive to net zero.
"These are areas of the energy mix that I find hugely interesting, and I look forward to bringing my oil and gas skills and experience to the fore."
Steve's career to date has seen him support major bp projects in the west of Shetland, including the second phase development of the giant Clair field in the west of Shetland, Clair Ridge.
He added: "I get an enormous amount of satisfaction from working on a project like that; to see how my work helps the overall project. In the last couple of years, it's not always me being the person that comes up with the solution. Now, as a team leader, I can enable colleagues in my team to have those experiences. That gives me such great satisfaction."