New website to improve user experience, navigation, engagement and accessibility.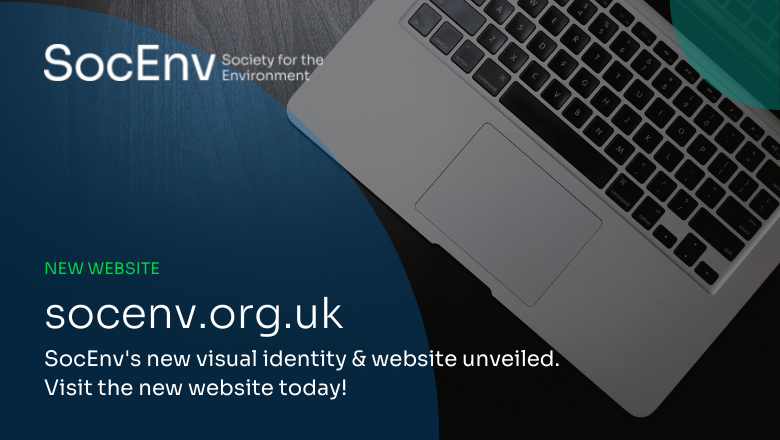 The home for environmental professionals worldwide has a new look, as SocEnv launch brand new website.
Revamped SocEnv, CEnv, REnvP and REnvTech logos are also unveiled, designed for increased accessibility and to reflect the professionalism of environmental experts.
Today, SocEnv launched their new website to improve user experience, navigation, engagement, and accessibility. SocEnv's new flagship platform aligns with its strategic objectives of championing and growing the environmental profession and facilitating the sharing of good practice. You can visit the new website here: socenv.org.uk
The new website comes with a key new feature – the Knowledge Hub – packed with valuable, trusted learning opportunities and insights.
The new Knowledge Hub is freely available to everyone interested in expanding their knowledge of environmental good practice. Resources include topical blogs, technical reports, webinar recordings, guidance documents and policy submissions, and top tips for gaining our professional registrations.
More new features will follow in the coming weeks, including the reintroduction of the Registrant Directory, allowing website users to verify if a professional is registered with SocEnv.
As part of the website redevelopment, SocEnv has refreshed its branding to ensure accessibility for those with impaired vision and to reflect the professionalism of Chartered Environmentalist (CEnv) and Registered Environmental Practitioner (REnvP) registrants.
New registrant login
All CEnv and REnvP registrants continue to have a profile they can access and update on the SocEnv website, but the login method has been improved. Accessing your profile now simply requires the email address that is linked to your SocEnv profile. If you don't have an email address linked (or you don't know which email is linked), the SocEnv team are on hand to set this up.
In your profile, you can amend your professional details and contact information and sign up to communications from SocEnv – including informative e-newsletters and notifications of opportunities to showcase your work. Log in here.
Visit the SocEnv website: