REME recruit Michael credits positive role models and accepting opportunities given to him.
Michael Thompson has already achieved a considerable amount in his time in the Army. A late recruit at 24, Michael has spent his four years since joining REME in 2017 making up for lost time by making the most of the opportunities presented to him.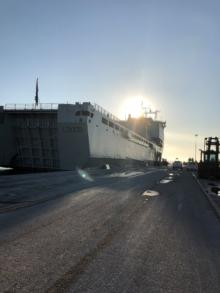 It helped that Michael has a mechanical mind-set - regularly tinkering with and fixing bikes as a hobby from an early age – decided that he could make a successful career out of something he enjoyed so much, and where he could use his skills in challenging environments.
Those skills got tested in tough surroundings when Michael was called up to board HMS Mounts Bay in South Carolina, USA, in March 2019.
"The unit I was with got sent out and I did the regen on the vehicles out there. I was at the point where the artificer was teaching me how to fix plant equipment and generators. It broadened my horizons; it wasn't just a case of fixing an engine or transmission, chassis or axle, it was fixing hydraulic systems, JCBs, bobcats, chainsaws, quad bikes. I was learning so much, taking all of it in."
The variety of the position surprised Michael, who wasn't expecting such a diverse role at such an early stage of his career. An enthusiastic and ambitious individual, Michael recognises that to improve as an engineer and soldier he needs to regularly put himself outside his comfort zone, so whenever he's given an exciting opportunity to test himself – a regular occurrence – he accepts.
Being an equal part of a fully functioning team gives Michael the responsibility he needs to flourish.
"Personally, I thrive on the pressure; I want to reach a high standard as a mechanic and a soldier. I want to work hard for them because I know they're working hard for me. I can go to them with anything: mechanical, personal or professional, and I know they would do the same for me. It's a close unit – 20 people strong. You have to count on them just as they count on you.
"When we were doing arctic training in Norway, we worked closely with the Norwegians to see how they adapt, mechanically, to different situations and environments. With their climate the vehicles need more maintenance, so we were working all round the clock."
Despite having joined the Army later than many new recruits, Michael has no regrets. And now, four years after joining, he is the Society Artificer of the Year.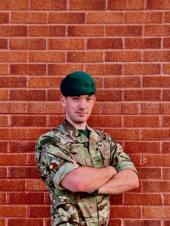 "It's a great pleasure and honour to have won it. I'm always developing, and there is still time to go further. Right now, I do want to inspire others to do better. I'm blown out the water by this award, but I wouldn't be able to do it without the team I'm in.
"I've been really lucky. Some people have inspired me by being good role models. They were just genuinely good people who inspired me to go into work and to give everything 100% – then everything else falls into place. If I'm asked to take on a new task, they know I'll respond with a positive 'yes'," said Michael.