The group from Huntingdon were given a guided tour of the factory and told how the company now operates in several diverse markets worldwide.
Stainless Metalcraft Ltd, a manufacturer for the energy, nuclear and medical technologies sectors based in Chatteris, Cambridgeshire, was the destination for an IRTE Huntingdon regional tour group in December.
The group were told how the company, formed over 150 years ago as a repairer of agricultural equipment, manufactured plant equipment in support of the first and second world wars.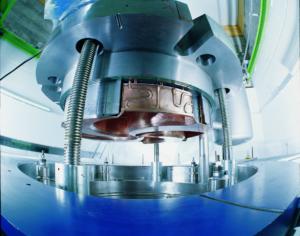 The company was also involved with the manufacture of the first MRI scanners for the NHS and supports the UK nuclear industry with pressure vessels, tanks and steel-fabricated or machined items. It has also manufactured plant and equipment for the African gold and diamond mining industry, built dockyard cranes and constructed a water tower in Chatteris in 1910.
The group was told how pressure and vacuum vessels were produced for oil, gas and petrochemical use and parts were made for the Large Hadron Collider (LHC) project.
On a guided tour of the factory, given by Sales Manager Stephen Buttriss, the group were shown the manufacture of containment boxes for nuclear waste. The boxes are designed to withstand enormous pressures and are made to last for more than 100 years.
The company now employs 133 people, which includes 19 apprentices, and has the Fenland Engineering Skills Centre (FESC) located on site.