Volvo Bus reveals product design innovations to Scottish regional group.
The latest Volvo Bus environmental and safety innovations were presented to the Ayrshire regional group at its first technical lecture of the new year.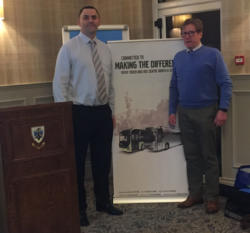 Martin Misset, Volvo Bus Development Manager, told the audience how the organisation is adapting to new safety and emissions regulations worldwide. As an example of how regulations vary by region, Martin showed the audience images of a 30-metre long Gran Artic 300, capable of carrying 300 people, built and operating in South America since 2016.
Back in the UK, Martin explained how, due to emissions legislation, there are now 1,800 hybrid electric buses operating in the UK and Ireland, compared to 5,000 globally. The Volvo hybrid has been running in London since 2008, Martin told the audience, in response to LEZ and ULEZ emissions limits.
The hybrid buses can operate on electric for 70% of their routes, reducing emissions by 35% compared to a conventional bus. Volvo's full-electric buses are capable of fully charging their batteries in six minutes through a 1,000-volt charging system, installed at terminals. Volvo has spent over two years testing autonomous buses, which can be programmed to self-park, drive through vehicle washes, and eventually recharge themselves when not in use.
Martin then explained how Volvo's 9700 and 9900 series coaches offer a range of safety options: dynamic steering; autonomous emergency braking; electronic stability and traction controls; front under-run protection system; and, from 2014, the option of a collision avoidance system. All UK specification vehicles now conform to EuroVI but are designed to achieve EuroVII, when the legislation and emissions limits are confirmed.
It was another highly educational lecture for the Ayrshire regional group and a positive sign for the year ahead.